Helios desk height adjustable table
Do you prefer to stand up for a while after your lunch? or after long hour working? We introduce you our Helios desk, the sit-stand solution for user who like to stand at work for better blood circulation
Specification :
Height adjustable table with dual motor
Come with wireless charger and USB charger
Come with wire tray
Adjustable Height 770-1210mm (with castor wheels)
4 pre-set heights
Table Top:
1500mmL x 750mmD
Colour: Zaoro Oak, Noce Cappuccino, Cocoa Walnut
 Frame Colour:
White, Black
Why Helios Desk 2 stages?
It allows you to stand at work after long hours of sitting
Dual motor adjustable from 770mm up to 1210mm in 16 seconds, queit motor and stable leg
Made with heavy duty steel with durable powder coating surface.
4 different heights can be pre-set
Table load capacity up to 125kg
Come with cable tray for wire management
Come with wireless charger and USB charger
5-year warranty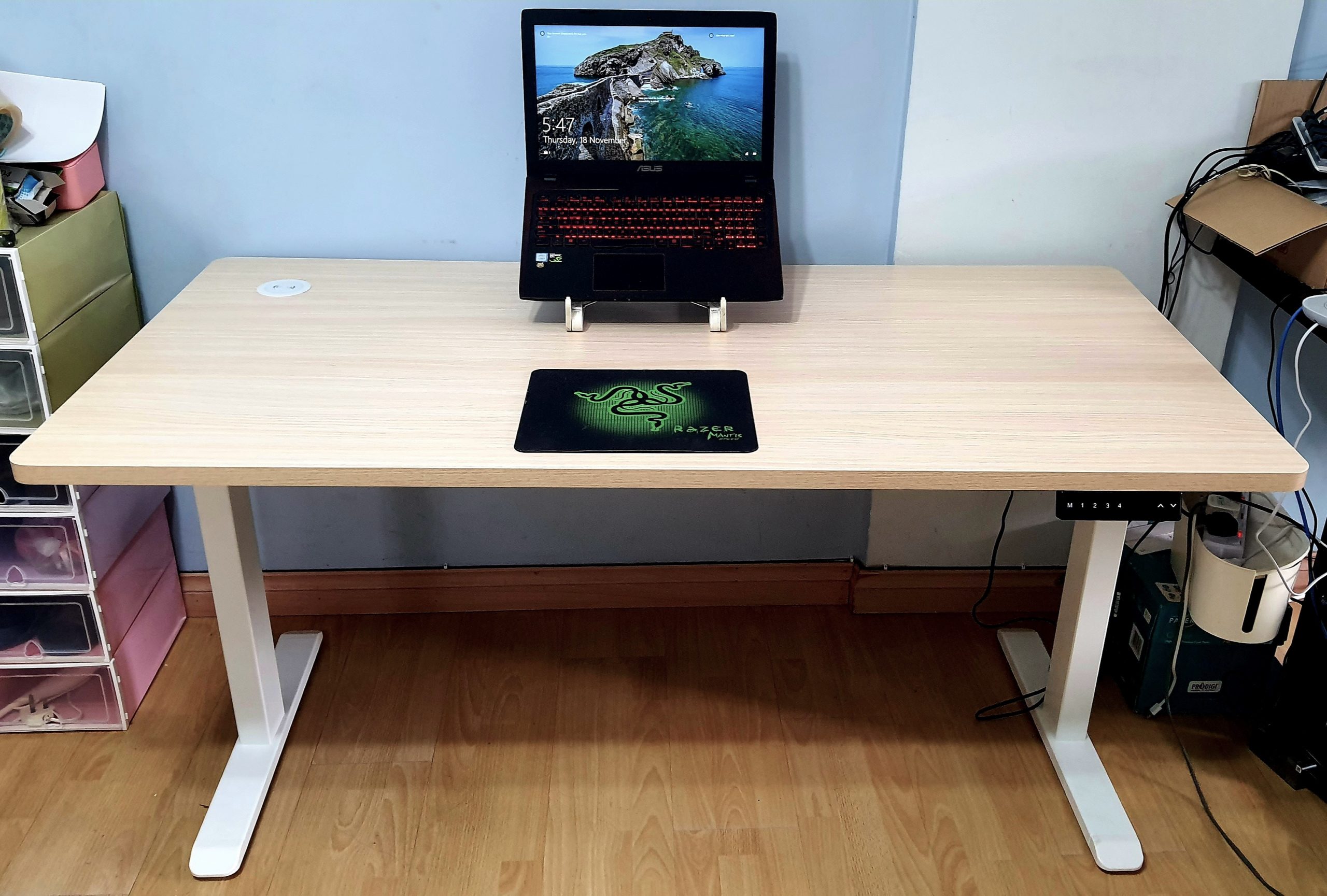 Long hours of sitting or standing are not good for health, to avoid same posture for long hours
Stand up for a white at work is good for blood circulation
Reduce pressure on back and neck
More energetic and higher productivity
Feature 1: 5ft Melamine Table Top
High Quality and durable melamine surface particle board
size :1500mm x 750mm
WE KEEP THREE COLOR OF MELAMINE TABLE TOP SO THAT WE CAN DELIVERY WITHIN A WEEK, IF YOU WANT TO CUSTOMIZE YOUR TABLE TOP SIZE, OR DIFFERENT COLOR FROM OUR SELECTION, EXTRA TIME AND CHARGES WILL BE APPLIED.
COLOR OPTION: ZAORA OAK, NOCE CAPPUCCINO AND COCOA WALNUT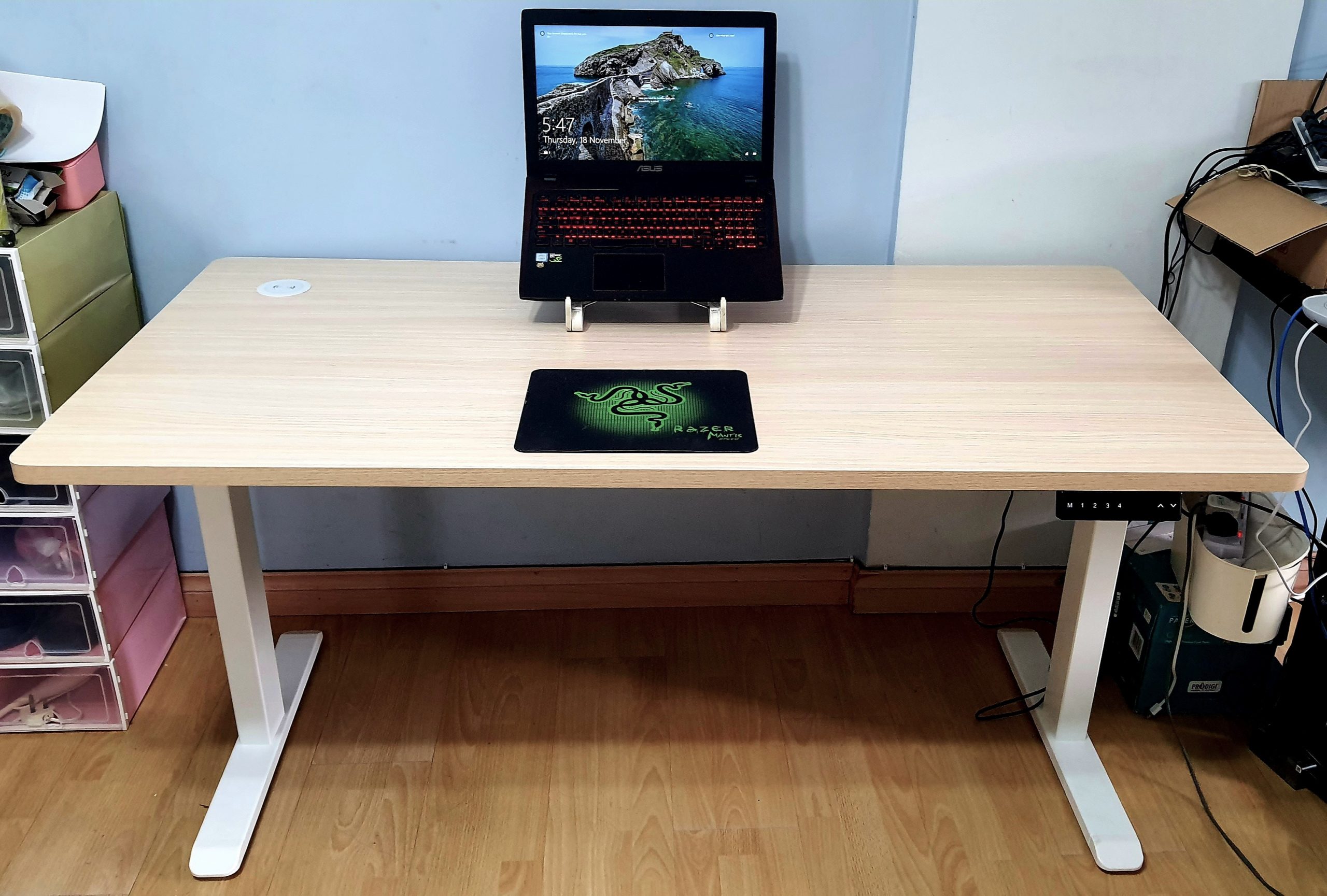 Limited Stock! Please reserve your height adjustable table by whatapps to our sales person:
Tommy @016-376 2723, deliver and installation will be arrange within a week, Pay with Atome app and entitle 0% interest fee of 3 month installments
Feature 2: 4 preset memory heights and usb charging controller
Our controller allows you to preset your default height so that you don't need to keep pressing the button to rise the table. You can set up to 4 heights so that it can used for more than one user
Besides that, Helios desk also has build-in anti-collision. what is anti-collision?
Anti-collision is a protect system to avoid table hit any ostacle without stopping, 
example if you set your sitting height and some cabinet is under your table, our helios desk will stop if it hit the cabinet.
come with usb port at the right side of the controller so that you can charge your phone easily
Feature 3: Movable with heavy duty castor wheels
Our helios desk is made by heavy duty steel, so it is quite heavy to move it to other location that you prefer.
you can add on castor wheels so that you can move it to some place you want by yourself. 
Our castor wheels are heavy duty castor with 120kg loadability, it comes with stopper as well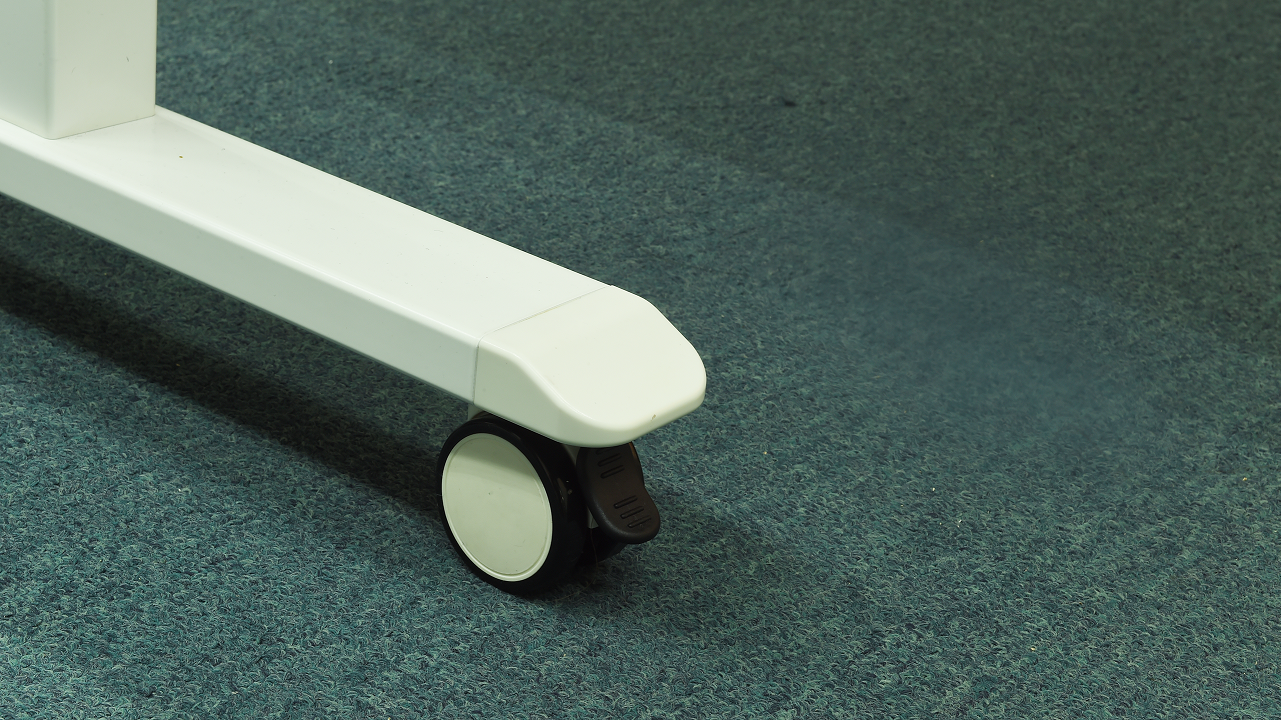 Feature 4: On desk wireless charger
If you want to charge your phone, you can add on an on desk wireless charger to charge your phone. iphone 8 and above or android with wireless charging function can use this 
it is not super fast charger, but it is so convenience to just put your phone on the table and charging the phone
对于我们这些长期需要坐着剪辑的人,这个桌子实在是太好了! 除了可以调节上下,让我们可以站起来工作一下,血液循环会变好!加上有轮子,可以推动,方便,安装很容易,不过需要两个人来安装会比较好.
给Helios desk一个赞!!
"Tommy服务超级好, 货运公司出货延误了,我都不用烦恼,他会主动每天催货运公司。桌面还没送到他就已经到我家等了,服务一级棒!而且使用两周之后Tommy会主动跟进使用状况,若有问题马上帮忙解决,实在太棒了!"
非常喜欢这个升降桌,可玩性非常高、可以随意调整高度,更重要的是品质很好。我的工作需要我一直走动,有了这个升降桌,能够时时让我保持【战斗】的状态。业余的时间我也可以调整角度,让家里小孩坐在我身边做功课,一举两得。最后,我要大大的称赞老板的服务态度超好,让我对他以及他的产品超有信心。强力推荐Helios给大家。
The services are excellent. After ordered, you have to just wait to appear in front of you. Tommy will update the status of your order regularly and schedule the delivery and installation base on your convenient. The table has heavy duty castor wheel which I can move around easily, 4 preset memory height, wireless charges. Recommended seller, you will delight to have this product and services.
作爲一位影音創作者,很多時候我們都需要花十多個小時坐在熒幕前剪輯影片,長時間下去會導致肌肉緊綳、背椎酸痛,自從買了這張升降桌以後,無論是站著工作還是坐著,升降桌都能夠調整到我們想要的高度來配合我們,這樣能夠大大降低肌肉緊綳、背椎酸痛的問題,還可以促進血液循環,而且其高度可以高達130cm,剩了我使用三腳架,用一些簡單地儀器就能夠把智能電話架在桌子上進行拍攝,非常方便!
另外,服務那方面也做得挺好的,從訂購到送貨再到安裝甚至是售後服務,Helios Desk 都提供了一條龍的服務,不需要催他們,所有的服務都安排與跟進得妥妥當儅,產品的質量也相當高,看得出是一分錢一分貨的優質產品,無論是產品還是服務我都非常滿意!
如此高質量的產品及服務的一家良心公司,我一定會推薦及分享給身邊的親朋慼友的。
FREE SHIPMENT WITHIN WEST MALAYSIA, EAST MALAYSIA WILL BE HAVE ADDITIONAL CHARGES
Free delivery with Gdex to all the place within west malaysia, for east malaysia, additional shipping fee will be apply on it
FREE INSTALLATION
Free installation without klang valley and selangor area. for outstation user, we will have video instruction for you
5 YEAR WARRANTY
Our helios desk comes with 5 year warranty with includes motor and frame. Controller , control box and electronic part will be 2 year warranty
table top, wear and tear parts are not includes in the warranty